Manual for the three-layer "Diversity-Optima"-panel
(© 2007 by Martin Hilb & Nils Jent, St.Gallen / Schweiz)
With that diversity of board teams for your company becomes a competitive advantage (and not a disadvantage), the following points should be noted
The diversity of board teams should never be more complex than reality (e.g. if your company is only active in Switzerland, it doesn't need an American on the board).
Diversität creates benefits for the stakeholders of the company only when each board team member knows his own identity and that of the other team members (with strengths and corresponding weaknesses).
This three-layer disk can then be used as follows:
The outer disk: necessary know-how
First determine in the board team which know-how is necessary for your board. The rule is: The board should have the same know-how as the management.
This is the only way the Board can perform the strategic design and controlling function required by law. You then determine which examples of know-how are covered by the current members and which are not yet available in the board team. For example, if entrepreneurship is important and you have such a member, then the opposite is the necessary (complementary) know-how: risk management. If you do not have a member on the Board with this know-how, this know-how must be taken into account in the next appointment of a Board member.
Even if your board has all the necessary know-how, this does not guarantee success. For a board to become a team, different roles are necessary.
The middle disc: necessary team rolls
Discover what roles are being played by current board members (through self-assessment). The roller disc also contains the complementary roller on the opposite side.
Übt e.g. a board member as strong the promoter role, then its role weakness lies on the opposite side, in the controller role. Only if the board members know their own role strengths and weaknesses do they appreciate the targeted use of a board member of the complementary opposite side.
So, for example, both a board member in the role of the critical thinker and a board in the opposite role of the translator is necessary.
The inner disk: dominant comparative strengths
We all have a so-called kaleidoscope of our social data, which can be represented by a cake: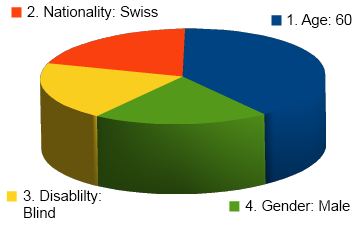 Each board member identifies his dominant social date: In the above example, the dominant social date of this member is age.
The comparative strength lies in the rich experience of the board (it has a pronounced long-term memory), the comparative strength lies in a less pronounced short-term memory.
In order that the board does not become too large (e.g. small companies: 3 board members; medium-sized companies: 5 board members; large companies: 7 board members), the characteristics of the three discs must be used in combination, e.g. a board member has the following profile: HRM know-how, role of promoter, age 60.